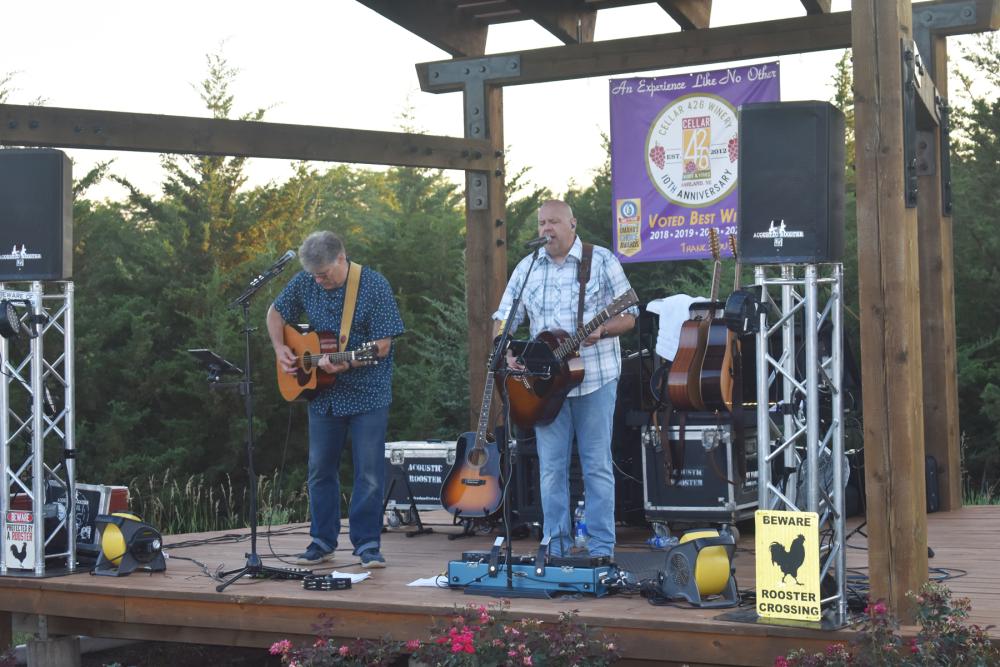 Acoustic Rooster
Saturday, June 3rd
6:30 — 9:00pm
** Ticketed Event **             
Online Ticket Sales Have Ended For This Event - Tickets Will Be Available At the Gate For $8.50 plus Tax.
Acoustic Rooster returns to the Cedar Stage for another toe tappin show! Not your typical acoustic show, they are a  full on rock & roll, high energy, acoustic act. Along with great rock tunes they take from many other musical genres (country, blues, and surf (yes, you read that right, acoustic surf) to name a few), the band wows people on a nightly basis. Drawing from a massive song catalog every Acoustic Rooster show is unique. Sure to be a fun night full of energy. 
Along with our usual food fare (our charcuterie boards, cheese and sausage plates, etc) we will Carnitas El Ranchero serving some of the areas finest street tacos and other items
Tickets are $6 in advance, $8.50 day of show. 
The winery will be open to normal business until 6pm and the band will begin at 6:30pm. With only ticket holders allowed to stay after 6pm. Our full menu will be available.
All ticket holders will be wrist banded at the entry station. The entry station will open at 5pm.
Everyone above the age of 2 will need a ticket.
We will be selling a limited number of tickets for each show and once they are sold out we are sold out. We cannot guarantee tickets will be available at the door so purchase in advance of the show. 

For groups - for efficient entry, it is better to have each couple/family purchase their own tickets. No large groups over 20.
**Please note, once tickets are purchased refunds are made only if the entire show is cancelled due to weather.  Tickets cannot be exchanged for another date/show.
No outside alcohol, food, or drinks of any kind are allowed. No coolers please. These policies will be strictly enforced.
Event and details subject to change
Advance tickets will be available on-line until 10pm on the Friday before the show